ARTICLES
Blurt Online
By Christian Kiefer - April 28, 2009
"On their latest, Til I Prune, Winfred E. Eye has distilled [their] sound into a gem of rare and wonderful clarity. On the album's strongest tunes, such as the heartbreaking "Sleeping," the band displays a clear sense of restraint that drives the melody forward with subtlety and grace. Well, done, gentlemen." (Read Article)


LA Weekly
By Chris Martins - April 22, 2009
"Exactly the kind of crusty, creepy music that you'd expect to hear emanating from a rusted old Oakland warehouse in the dead of night. Consider them the Bay Area's answer to Tom Waits...offset by the more traditional psych-blues of the Black Angels and the odd-duck pop construction Isaac Brock tapped into for Ugly Casanova." (Read Article)


PopMatters
By Jeremy Ohmes - April 28, 2009
"This Bay Area bedroom-gothic outfit dims the lights, tucks you in, and whispers a lullaby that might put you to sleep if it weren't for the booze on their breath and the monsters under the bed." (Read Article)


Babysue
February 20, 2009
"Til I Prune contains some seriously absorbing little gems. Smart songs with cool reflective lyrics...and some of the most beautiful melodies we have thus far heard in 2009....An obvious top pick this month. Recommended." (Read Article)


Red Alert
By Alex Pudlin, April 20, 2009
"If you're a bit of a loner who likes to drive for many hours with your dog slobbering out of the window next to you, Til I Prune could be your favorite album of the year. Even if you're not this extreme, but have a penchant for tortoise-step Americana soundscapes and bleak lyrics, you'll fall in love with this album." (Read Article)


Pitchfork
By Joe Tangari - November 10, 2003
"Pity the record store clerk. As if filing albums by bands like +/-, !!!, and Sunn O))) wasn't confusing enough, there are also more subtly deceptive bandnames out there lying in ambush. By now, everyone knows not to file Pink Floyd under "F," but one could hardly be blamed heading to the "Misc. E" card with this disc, unaware that Winfred E. Eye is actually a band fronted by a guy named Aaron Calvert." (Read Article)


Village Voice
By Frank Kogan - September 17-23, 2003
"Winfred E. Eye's Aaron Calvert sings in an old-coot faux Howlin' Wolf croak, and gets beauty out of the creaks in his croak, though not nearly as much as the Wolf did..." (Read Article)


SF Weekly
By Paul Koehler - July 31, 2002
"Like Tom Waits before him, Winfred E. Eye's Aaron Calvert sings in a voice that could easily belong to one of his characters. On his band's debut full-length, A Bottle, a Dog, Some Milk, a Bottle, Calvert brandishes a slow, raspy tone that befits the drifters, derelicts, and regular working folks of whom he writes." (Read Article)


East Bay Express
By Tod Meister - June 15, 2001
"Winfred E Eye's music is downtempo, often labeled "Americana" in reviews, and it's not nearly sugary enough for the cookie-cutter corporate expectations of early-21st-century American taste. It feels a little boozy, and the vocals scratch and groan, but this isn't Tom Waits. This is more like a few hours after the bourbon ran out, and the headache's setting in." (Read Article)


Oakland Tribune
By Aaron Tassano - October 20, 2000
"Oakland songwriter Aaron Calvert`s grandfather was named Winfred Elton Eye. If that sounds like a strange name to you, it sounded strange to its owner, too." (Read Article)



- - - - - - - -




The Pitchfork Review
By Joe Tangari - November 10, 2003

Pity the record store clerk. As if filing albums by bands like +/-, !!!, and Sunn O))) wasn't confusing enough, there are also more subtly deceptive bandnames out there lying in ambush. By now, everyone knows not to file Pink Floyd under "F," but one could hardly be blamed heading to the "Misc. E" card with this disc, unaware that Winfred E. Eye is actually a band fronted by a guy named Aaron Calvert. I suppose it would be too perfect for music like this to be made by one person with such a fitting, sideshow-appropriate name, anyway. And I guess it's better (or at least less obvious) than any number of other suitable names, like, say, Tom Waits & The Bad Seeds.

Calvert and his seven-man support corps camp out somewhere between the circus side tent, the witch trials, and the Mississippi Delta, and it winds up sounding something like what one imagines Mr. Waits might sound like with Blixa Bargeld, Kid Congo Powers, Mick Harvey and Warren Ellis backing him up. Calvert's voice isn't as grotesquely grizzled as Waits', but he works hard to get it there. Opener "Run Along", with its bone-room percussion and spookhouse organ, could practically pass for an outtake from Bone Machine if not for the lyrics, which steer far from Waits' twisted Cabinet of Dr. Caligari-esque surrealism and nighthawk poetry and instead come across like a homeless guy's diary entry.

The title track lurches along on junkyard percussion and a slow and nasty blues lick that never changes once, while Calvert yowls like a dying smoker, wailing lines like, "The germs all get eaten by the earthworms sitting on the dirt tier." His lyrics are strange snapshots of ugliness, at times oppressively blunt. The gentle acoustic guitar and accordion arrangement of "Grey Ghosts" is counteracted with brutal lines like, "Your tongue's in trouble for running your mouth/ Proof in your hands/ Fists in your mouth."

As good the music can be, The Dirt Tier suffers from a relentlessly slow pacing that only highlights the cartoonish violence of the lyrics, and its insistence on grit and filth too often feels affected. The reason Tom Waits gets away with stuff like this is that he sees the humor in it, and he plays his persona to the hilt, with delight, and that's one step this band will need to take if they're ever going to step out from under his shadow. For now, The Dirt Tier is the eccentricity without the personality to put it in context.

Top of Page







Shifty Hick Licks Help Sick Beatnik Shit-Snack Shtick Click
Winfred E. Eye's The Dirt Tier
By Frank Kogan (The Village Voice - September 17-23, 2003)

Winfred E. Eye's Aaron Calvert sings in an old-coot faux Howlin' Wolf croak, and gets beauty out of the creaks in his croak, though not nearly as much as the Wolf did; nor does he achieve the Wolf's ferocity. So on The Dirt Tier, the couple of tracks where Aaron is at his most full-bodied are the least effective—the old-coot voice is an old beatnik shtick, and in the 2000s it functions more as a mask than as an expressive instrument. But actually, on most of these songs the voice can't quite find its body—I'm assuming this is deliberate—and that's when it's at its best, since in disintegration it mingles with the rest of the instruments, adding a wheezy sorrow.

The music is a slow pre-blues shuffle where the scrapes and scratches and simple riffs find their beauty unerringly. A mouth harp will play fragments that only halfway coalesce into melody. And the words are about not being whole. "Maybe you're sick because you're supposed to be before you die." Dissolution as a form of recalcitrance, defeat as a stance. People living a sketchy life and deliberately not filling in the sketch. This is also a beatnik shtick, but with enough originality here to justify itself aesthetically. Even when the lyrics stop short of my ability to comprehend them—which is usually—they give the feel of people choosing the scrap heap as their home, while their bodies break down. On the title song, they eat cat shit as if it were chocolate. "It don't taste no good; we're only pretending." So defeat is just defeat, I guess. And now what?

Top of Page







True Grit
Winfred E. Eye's scruffy Americana mines the simple pleasures of life
By Paul Koehler (SF Weekly - July 31, 2002)

Like Tom Waits before him, Winfred E. Eye's Aaron Calvert sings in a voice that could easily belong to one of his characters. On his band's debut full-length, A Bottle, a Dog, Some Milk, a Bottle, Calvert brandishes a slow, raspy tone that befits the drifters, derelicts, and regular working folks of whom he writes. When Calvert murmurs, "You can have the glee club/ That's not for me/ I'll take the docks/ I'll take the breeze," on "Up Ahead," his drawl seems to speak for all wayfaring strangers. At the same time, his East Bay group -- named after Calvert's grandfather -- adds weight to the offbeat lyrics by sculpting a kind of Gothic Americana, blending traditional guitars and lap steel with exotic colorings from melodica and synthesizer.

"I really like old songs, how someone might just write a song on a whim about something they saw or that happened to them that day," says Calvert. "Our songs are just simple messages, interpretations of things happening around us. Expressions of our blues."

For the past four years Winfred E. Eye has pursued its modest ambitions much the same way Calvert's characters might, with vision focused on the everyday, giving little thought to grand schemes. "There's never been some kind of agenda behind what we do," says Calvert. "We all have 9-to-5 jobs, and playing music is what we do to have a good time. I suppose other people play baseball or something."

Agenda or not, Winfred E. Eye has become an increasingly visible presence in the Bay Area music scene and beyond, scoring prominent supporting gigs for indie rock stalwarts Smog, Mary Timony, and the Black Heart Procession. Along the way the band's proven equally successful with the gay bikers at S.F.'s Eagle Tavern and the legendary producer Daniel Lanois at L.A.'s Spaceland. Such notoriety can seem odd for a group that started almost as an afterthought. But the casual and happenstance have always informed Winfred E. Eye's career -- and its music.

Winfred E. Eye formed in 1998, when singer/guitarist Aaron Calvert and multi-instrumentalist Mikel Garmendia got together for a series of post-brunch jam sessions. (The two had shared shows during the mid-'90s with their previous indie rock bands -- Garmendia in Cars Get Crushed and Calvert with Evergreen.) Over the course of a year the duo compulsively recorded songs on a succession of ancient two-track recorders in Garmendia's Oakland basement, culling tracks from the sessions for 2000's self-released EP The Day I Lost My Sea Legs.

Sea Legs had many of the elements that would come to define Winfred E. Eye's songs: folkish playing, gruff vocals, and gritty, ruminating lyrics. But there were also tape loops, meandering instrumentals, and long ambient sections.

"The first record was still a lot of experimentation with what we wanted to do," Calvert says over beers and a little whiskey at Garmendia's studio. "We really thought of it as just something for our friends, with some small distribution."

Following Sea Legs (now slated for rerelease on Luckyhorse Industries), the pair continued experimenting, while Garmendia also began recording other musicians' work, including some solo guitar tracks by his former roommate Craig Adams.

While he wasn't happy with the resulting songs, Adams liked playing with Calvert and Garmendia -- so much so that he joined Winfred E. Eye. Quickly composing a batch of new material ("I couldn't learn the old songs," deadpans Adams), the trio started playing intimate gatherings for friends, with Calvert and Adams on guitar and Garmendia switching between bass and drums.

Impressed by what it had heard on Sea Legs, German label Monoton Studios contacted the group about recording another EP in July 2000. With the prospect of an actual recording budget, the band did the unthinkable: It left the basement. To facilitate the move, Winfred chose to bring along longtime friend and recording engineer Jeremy Goody, best known as Balanceman from the laptop-pop outfit CatFive, as well as bassist Chandan Narayan and keyboardist Dax Pierson.

"What attracted me was the music and the arrangements," says Pierson, who also performs with avant-garde hip hop collective Subtle. "Our musical backgrounds are pretty diverse, but I guess you could say that Winfred E. Eye is the point where we all meet."

As for the new recording environment, Garmendia says, "It was a bit of a challenge. Unlike the basement, where there's no rush, we had to be in and out of the studio in one night, and all of the songs were done on the first or second take."

The resulting three-song EP, Glasses, available in the U.S. from Independent Music Distribution, was a coming of age for Winfred E. Eye. Doing away with tape loops and ambient sections, the band pushed Calvert's lyrics front and center. As if to solidify its embrace of songwriting, the band included a cover of Randy Newman's "Memo to My Son."

Like the jams with Adams, the sessions went so well that Pierson and Narayan joined the group officially. Then, in January 2001, on the eve of a minitour to Southern California, the group added one final member: drummer Josh Kilbourn of local power-pop act Applesaucer (Garmendia switched to guitar). Seven months later, when bassist Narayan announced plans to return to college for a graduate degree, Winfred decided to record a full-length to "capture what we had," says Pierson.

Liking the results of the Glasses sessions, the group again tapped Goody as engineer. But this time, the destination was not a recording studio per se. Rather, the group chose to sequester itself at Pegasus Hall, a small playhouse in Monte Rio, about 15 minutes from Petaluma. "Getting away was important to me from the beginning," says Garmendia. "The most important thing was to get away from having to return phone calls and our day jobs and things like that."

Utilizing a variety of inexpensive equipment, Winfred recorded seven of the album's eight songs over the course of four days, with the LP's final track laid down back in Garmendia's studio.

"I think the intention was to match the Sea Legs recording as much as we could," says Goody. "There's something about that record, the way it was recorded in the basement with all the ancient gear, it just has this old-time record sound to it. But that vibe was still there for these recordings, and I think we captured a lot of that feeling."

While A Bottle, a Dog, Some Milk, a Bottle may lack the artifactual feel that comes from older equipment, the record's sonic clarity makes up for it. An apt comparison might be that the first EP sounds like a dusty 78 playing on an old turntable, while the new LP captures the vibe of the band playing live in your living room.

The sound quality of the music isn't the only thing that has progressed; the songs are also Winfred E. Eye's strongest so far. Showcasing the musical collaborations of the entire group, the new arrangements are propulsive without being rushed, with full instrumentation that never feels dense. By filling out its sound while retaining a degree of sparseness, the band has produced a set of songs that is both atmospheric and engaging.

Lyrically, the album sticks to the kind of darkly poignant subject matter that Calvert specializes in. "Bury It!" and "Keep the Bed Warm" explore the process of moving on after failed relationships, or, in Calvert's words, "coping with coping." Meanwhile, "Riding the Rails," the result of a joint effort between Calvert and author Aaron Tassano, is a stream-of-consciousness account of travels in France: "Search for meaty words/ In matted fur and fancy pants/ Things that we're taught/ To hate and want in America."

The album's two most moving tracks -- "Don't Be Here Tonight" and "Monte Rio" -- deal with the concept of being an outsider. "Don't Be Here Tonight" was inspired by a note Calvert's landlord left for a squatter who had set up camp on his roof. Calvert effectively uses the plight of the drifter to touch on his own feelings of not belonging in Oakland. "Monte Rio" closes the album, utilizing the combination of Calvert's growl and Pierson's falsetto to tug at your heartstrings: "No one wants to hold you/ No one wants to touch you/ No one wants to live with you/ And it's starting to sink in."

"They're all just stories to be told," Calvert says of the songs that make up A Bottle, a Dog, Some Milk, a Bottle. "I think the best way to think of it is that there is a ship that has washed up ashore, and it's somewhat mysterious, full of the histories of the people who were on it."

Top of Page







The House Band at Heartbreak Hotel
By Todd Meister (East Bay Express - June 15, 2001)

Winfred E Eye's music is downtempo, often labeled "Americana" in reviews, and it's not nearly sugary enough for the cookie-cutter corporate expectations of early-21st-century American taste. It feels a little boozy, and the vocals scratch and groan, but this isn't Tom Waits. This is more like a few hours after the bourbon ran out, and the headache's setting in.

The answer to the first and most obvious question about Winfred E Eye is: the name comes from Aaron Calvert's grandfather, whose name it was, and who hated it (especially in the armed forces--think "Private Eye") and changed it as soon as he got the chance. Calvert, singer/songwriter and one of three guitarists in WEE, dug up the name, and that's the story of the band's moniker.

The story of the band itself is a bit more convoluted. When it started two years ago, Winfred E Eye was originally Mikel Garmendia on drums and guitar; Aaron Calvert providing guitar, vocals, and lyrics; and Andy Ward on bass. Calvert and Ward were both in the Los Angeles band Evergreen, and Garmendia was in the defunct noisy local indie/pop group Cars Get Crushed. Since then, Ward has left the band (and joined LA-based combo the Deers), to be replaced by Chandan Narayan, a former member of Jakarta. Craig Adams (formerly of Ned Kelly) was added on guitar, and Dax Pierson on keyboards and melodica. Pierson is currently in the band Tenth Planet with Malcolm Mooney (original singer for Kraut-rockers Can) as well as several other groups. I could go on (even a simple search on Google brings up an ever-expanding tree of connections), but I'm stopping now. The latest addition, drummer Josh Kilbourne (formerly of Applesaucer), joined after a short SoCal tour last month. Kilbourne--who has worked on other projects with Narayan, Adams, and Garmendia--takes over percussion duty from Garmendia, who is more comfortable behind a guitar than a drum kit.

Unlike some of the groups littering Winfred's pedigree, though perhaps in a logical progression from them, the band plays a subdued set. On first listen, there's a guitar and a voice, and both are ambling along quietly, not necessarily moving toward any climax--angry, ecstatic, or otherwise. Lyrics aside, the sparse percussion (soft brush snare, occasional bass drum), the full but dampened feel of the bass ("standing" bass, not bass guitar), and the two or three gently strummed guitars provide a continuously moving, but slow and contemplative, ambience. The music itself doesn't necessarily evoke any particular emotion in the listener--it's more a dark atmosphere.

Calvert's voice adds the needed emotional depth. Moving from gravelly rumblings to whispered pleas, Calvert conveys a sense of dreams mislaid, loves and innocence lost, and all that good stuff one expects from acts like Nick Cave, Black Heart Procession, or Johnny Cash.

Winfred E Eye formed about two years ago as a collaboration between Calvert and Garmendia. "Basically, we started by [Calvert] and I working out some song ideas he had in my basement. At the time, I was setting up a recording studio in my house," Garmendia explains. "Over a year, we developed many songs, and started to record them. When we were ready we had Andy Ward [Calvert's Evergreen bandmate, and bassist for both Winfred E Eye CDs] come up [from LA], and we got the basic version of Sea Legs."

Those songs, recorded wholly in Garmendia's basement, became The Day I Lost My Sea Legs, Winfred E Eye's spring 2000 debut. "When the 4-track process was finished, we took a big crate of reel-to-reels down to Bay Records Studios, Oakland, and mixed the album. I wrote the whole layout of the album down on paper and we edited and mixed it in just one day the way it appears on the CD."

Sea Legs is a melancholy collection of songs about loss interspersed with rolling, sad instrumentals, all glued together with ambient sea sounds spliced from old reel-to-reel tapes--some of which came from Garmendia's grandfather, who worked for the US government-run overseas radio network Voice of America. The album is a fictional account of real-life (eventual) staff sergeant Winfred E Eye's return from his tour of duty, and his reaction to life off the boat.

"With The Day I Lost My Sea Legs we wanted to add a fictional CD concept," Garmendia explains. "Aaron and I were the recipients of Winfred E Eye's log, titled Life in the Service. The tales in the log became ideas for songs describing the sense of loss and dissolution he encountered. Thus, the title of the album describes his state upon return to hard ground."

"God Don't Be Hard on Me" starts the album off on a somber note. It's also probably the catchiest song, being the only one with a repeating chorus. The lyrics are a grimmer version of the Reverend Gary Davis (sans redemption) and are nearly whispered, a plea for mercy from an unfeeling master: "God do you know what it means/ to be losing the fight.../ when a lift just in time might set everything right/ ...Did you ask what it was.../ why the quivering lips and the glistening tears down the pale cheek that slips...." The words are carried gently along by Calvert's slow strumming and the slowly rolling bass line to the next tune, "Steel Bridge," a six-minute instrumental.

"Steel Bridge" begins the water imagery that weaves in and out of the album. The bass-heavy production, and slowly rising and falling bass line itself, evoke the image of a rowboat making its way over ocean swells.

The love song of sorts "Close by the Bay" focuses more on Calvert's voice with blank verse lyrics about a man with no home: "There's something under us and I can feel it moving.../ I won't wake you up but I'll be up late tonight.../ The cotton is holding all it can take.../ I bleed when I sleep and wake another day."

Then on to "Found Bones (Knots)," where Calvert's voice deepens almost to a Tom Waits growl, and finally to the twelve-minute "Dark Country," which winds the album slowly down to its conclusion, dribbling down to rumbling bass drum, then brush-stroke snare, to the end.

Unfortunately, The Day I Lost My Sea Legs is largely unavailable, due to a string of rather boring coincidences involving the album's distributor. Basically, as Garmendia describes it, "Since we put the record out ourselves, we ran into the typical problems with getting it out to the public." The band hopes to finally receive the CDs some time in the near future, so copies may eventually be more widely available. It can be found in MP3 through the independent music site www.mp3it.com.

The second Winfred E Eye release, Glasses (April 2001), is a three-song EP (the first album was also labeled an EP by the band, though it skirts the edge of full length, consisting of six songs and clocking in at about 35 minutes). The new EP is not so sparse as Sea Legs, reflecting changes in the band's live sound. The prominent keyboards give the songs a more dramatic edge, creating an atmosphere comparable to 3-Mile Pilot or related goth-indie group Black Heart Procession, though the layered guitar and Calvert's plaintive vocals are nothing like the carnival drama of Pall Jenkins.

Another change on the EP, and one also prominent in live shows, is the cover songs: one of the three songs on the EP is "Memo to My Son" by Randy Newman. WEE takes songs that are part of the esoteric musical history of the US--songs by folks like Randy Newman, Townes Van Zandt, John Lee Hooker--and weaves them neatly into the set. Live, they perform the occasional excellent rendition of "Death Don't Have No Mercy" (by the Reverend Gary Davis), and they recently recorded a couple different takes of Linda Ronstadt's "Silver Thread." Neither a cop-out for lack of original material, nor a pandering to the always-nostalgic masses clamoring for old faves, Winfred E Eye's covers lend a bit of grounding, a nod to its roots.

This propensity for reworking the past may be explained by some of Calvert's early experiences with live music, when, in tow behind his father, he caught some sets played by the house band at an anonymous hotel. "My dad started taking me to see cover bands between the age of nine and eleven. I always really liked it, and liked watching people get drunk." He remembers one band playing hours of material, with only the occasional twenty-minute break. "The band was called Le Crew. They did a cover of 'Hang on Sloopy.' They could do anything, it seemed.

"My dream is to be able to play professionally three times a week, near the ocean, at a hotel," Calvert says, which helps explain the search for songs from the past. "To get there, we'll need about a hundred songs, and so we just learn them as they come."

So Winfred E Eye keeps working on new material. The band still records in Garmendia's basement, a nicely crafted homemade studio, the quality of which is vouched for by the first album and the fact that the recent recordings they played for me during an interview were the only unmuffled sounds on my resulting tape.

Live performances, rare a year ago, are becoming more and more common. A mini-tour of Southern California one month ago was a success, and the band seems to play locally twice a month lately, as opposed to once every couple months not that long ago. The upcoming show at the Bottom of the Hill with Black Heart Procession and Holland's the Ex provides a fine (if crowded) chance to see them with two other excellent bands. Also in the works is a half-fantastical future tour of more of the US than just a small strip from the bottom left section, though currently that isn't so much news as wishful thinking.

Drawing heavily on the singer/ songwriter tradition and exempting itself from the need to create catchy pop songs, Winfred E Eye plays something like ambient Americana, a music for loneliness, a soundtrack for dusty roads and overnight stays in dingy hotels.

Top of Page





Band has Eye on appearance at Bottom of the Hill
By Aaron Tassano (Oakland Tribune - October 20, 2000)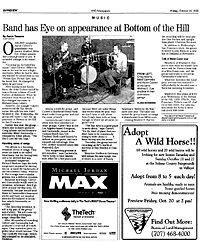 Oakland songwriter Aaron Calvert`s grandfather was named Winfred Elton Eye. If that sounds like a strange name to you, it sounded strange to its owner, too.
"Growing up, he hated his name," says Calvert. "When he was in the war he was a flight mechanic. When he had to identify himself he always had to say `Private Eye! Private Eye!' and he hated that. He changed it when he got home."
After tracing some family lines, the elder Calvert found he was a distant relative of Lord Calvert of Baltimore. When he returned from World War II. Eye changed his name to Richard Dean Calvert.
However, the younger Calvert resurrected the Eye family name. He calls his new band Winfred E. Eye. Wednesday, the group will make a rare live appearance at Bottom of the Hill in San Francisco.
Earlier this year, the group which also includes guitarist Craig Adams and multi-instrumentalist Mikel Garmendia released its debut album, "The Day I Lost My Sea Legs."
Haunting series of songs
The album is a haunting, seamless series of songs. They seem too dark to be called Americana, but too homegrown not to be labeled that way.
Acclaimed songwriter Richard Buckner says his early songs were inspired by driving his car around the backroads of the Sacramento Valley. Winfred E. Eye's songs have a similar genesis, but a different location.
Saturday mornings, Calvert and Garmendia would meet for breakfast. Afterward, they'd go drive around the Bay Area. Occasionally, the pair would head down to Garmendia's basement studio and hash out musical sketches formulated at break- fast, which Garmendia recorded.
"The Saturday breakfast is still a big part of the group," says Calvert. "We still come up with recording techniques, songs, ideas like that."
After 18 months of recording, Calvert and Garmendia had produced a crate full of 1/4-inch tapes. They started to piece together what would become "The Day I Lost My Sea Legs," which they released on its own label, Whaleboy.
Adams joined the group, and Calvert's childhood friend Andy Ward added bass guitar and did the cover artwork.
Garmendia and Calvert met when they were members of other groups. Calvert was in the Los Angeles-based Evergreen, and Garmendia played in the Oakland-bred Cars Get Crushed. Both could loosely be defined as post-punk, and each enjoyed cult followings. However, neither sounded much like Winfred E. Eye.
"Our songwriting process is very intuitive," says Garmendia. "We're lucky to have known each other for a few years now, because there are some things that evolve when we play, that we don't have to talk about. Now Craig's been with us long enough to where we all mesh together well."
"The Bay Area is a good place to write about," says Calvert, "It's the kind of place that you don't have to be consciously trying to write about it... It finds its way into the music."
Thursday, the group started recording an EP's worth of material at Bay Studios in Oakland.
Monoton Studios in Germany will release the new songs, one of which is a cover of Randy Newman's "Memo to My Son," early next year. The label contacted the group based on songs it downloaded from MP3it.com.
Joining Winfred E. Eye for the recording will be local pianist Dax Pierson and upright bass player Chandan Narayan.
In addition to Wednesday's San Francisco show, the group is slated to play Kicks 2, a new bar in Oakland in November.
Talk of West Coast tour
Members of Winfred E. Eye aren't sure what the band's next move will be. There's been talk of a West Coast tour, and the group continues to record in Garmendia's basement.
Whatever direction the band goes. you can rest assured it will probably be decided over a Saturday morning breakfast.

Top of Page